I wish I had before photos of the "shack" as I like to call it. We weren't sure whether we could save it or not. It was one of the saddest, dingiest little places I have ever seen. In this case, I worked as much as possible with what was there.
In the kitchen we saved all the vintage cabinets and painted them a soothing light mint green. We reused the original vintage hardware and replaced the peeling counter top with sheets of stainless steel. The farmhouse sink was one of the high points of the original house. I put a Barn Light Electric fixture over the sink and found the vintage stove on Craigslist. The island and cute storage caddy are from Ikea.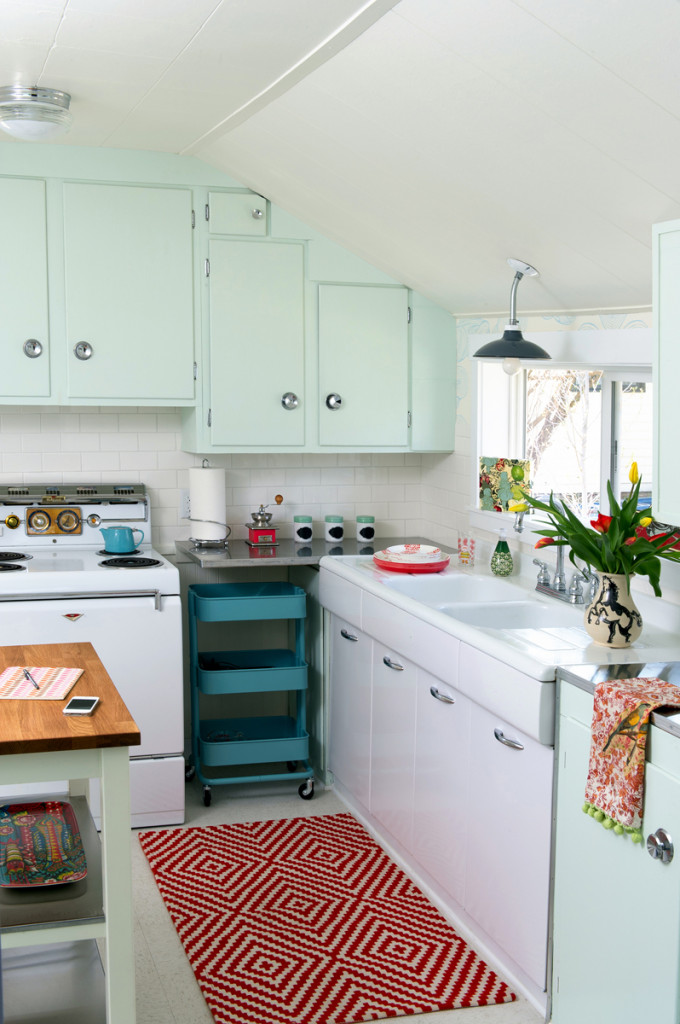 The mint green refrigerator is from Smeg and the wallpaper is from Hygge and West.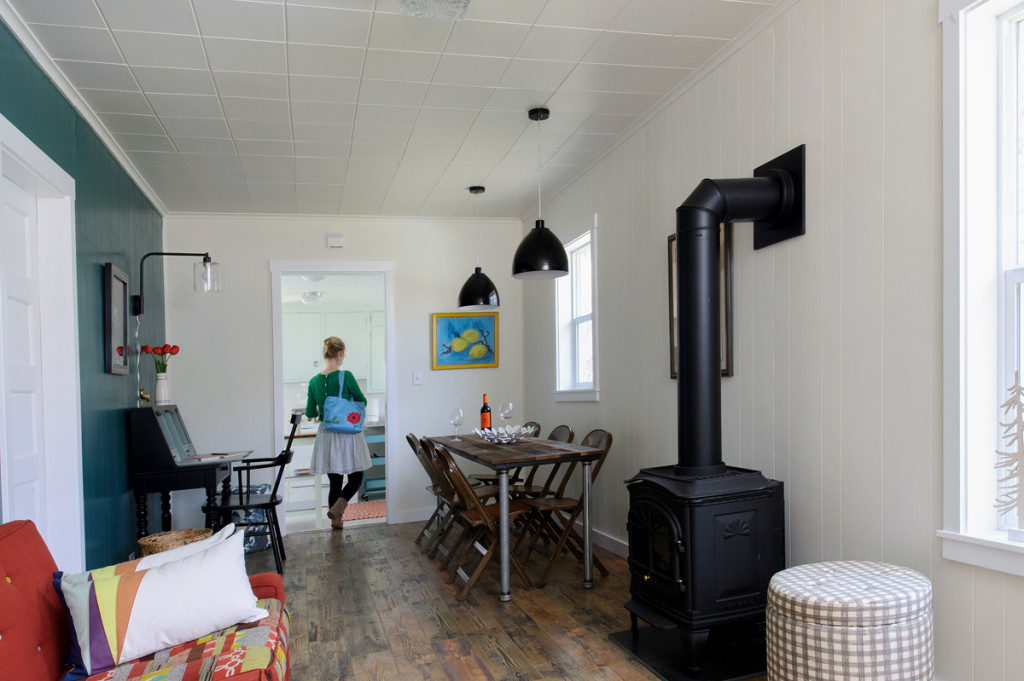 In the living room we put in new flooring that is actually a laminate, but has the look of a vintage floor. I installed a new gas stove in black, oversized inexpensive light fixtures and had the extra long and skinny table custom made by Revolution Salvage. I found the vintage school chairs around the dining table at Deja Vu Interiors in Bend. The desk was reused and the desk chair is from Ikea. The light fixture over the desk is from West Elm. The cute checked ottoman is from Target. The painting above the dining table is by my friend, Laura Silva. The cute girl walking through the doorway is my friend and fellow home stylist, Jennifer Griswold from Love It designs. She is my partner in crime at photo shoots!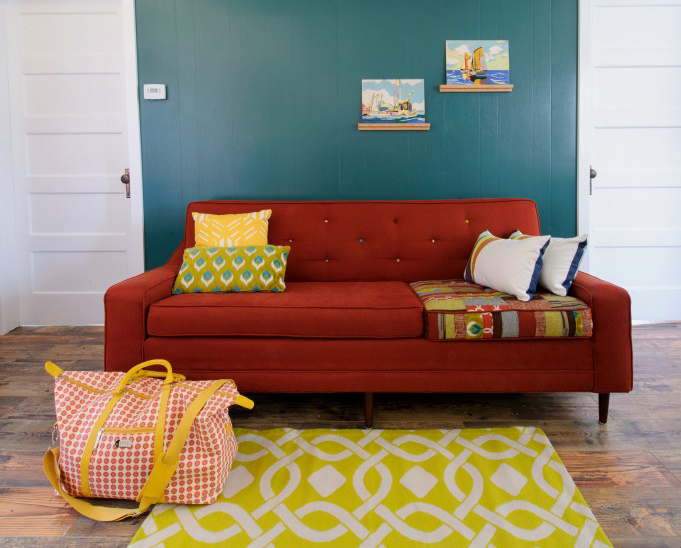 I picked up this couch off of Craigslist, along with an adorable matching chair. The paint by numbers art was from an estate sale in Medford, Oregon. The rug is from Target and the pillows are from Home Goods. The bag is from Jane Marvel.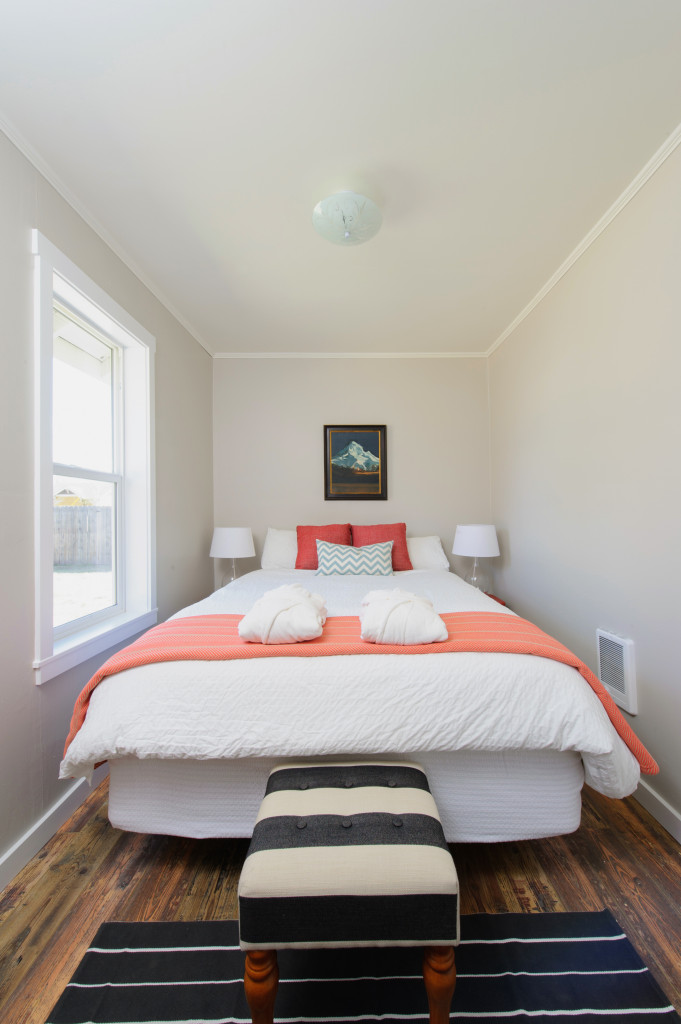 I painted the tiny bedroom a soft shade of gray and freshened up the trim with Sherwin Williams Super White. There was just enough room for a queen bed, barely. The cute footstool is from Target.
If you go to Google Maps and look up the address you can see what the exterior looked like originally.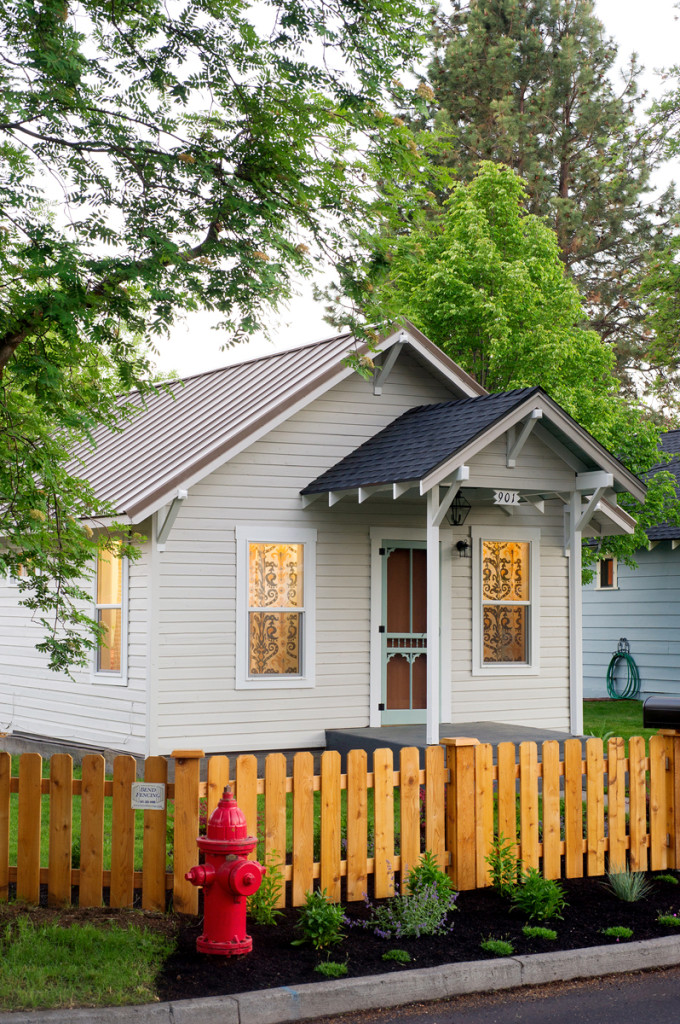 I had Greg Blea add a small covered porch. I found the vintage screen door at an estate sale in Medford, Oregon and Brad Phillips painted it a cool shade of turquoise blue, as well as gave the entire house a fresh coat of paint. We added a new cedar fence and with some help from Lora and Parker at Landscape Elements, we brought the yard to life and added new flower beds. I think the Google truck needs to come back and take a new picture!
Photography by: Joseph Eastburn Photography. Photo styling: Jennifer Griswold of Love It and Sarah Phipps.